Heart Health
Help Protect Your Heart With Dairy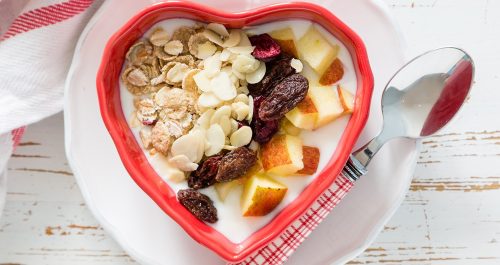 In America, cardiovascular disease (heart disease) remains the number one cause of death. And nearly one in three people has high blood pressure, which is a major risk factor for heart disease. Lifestyle habits, including diet and physical activity, are an important part of any plan to achieve and maintain heart health.
The Dietary Approaches to Stop Hypertension (DASH) eating plan includes 2 to 3 daily servings of dairy foods and 8 to 10 daily servings of fruits and vegetables, and is recommended by the National Heart, Lung and Blood Institute and the American Heart Association to prevent and control high blood pressure.
Dairy foods are an integral part of DASH because they contain a trio of minerals– calcium, potassium and magnesium – that play an important role in maintaining healthy blood pressure.  But did you know that a recent study shows that the DASH eating plan can be modified to include whole milk, yogurt and cheese without sacrificing health benefits?  That's great news, because when you have flexibility in food choices, you'll be more likely to enjoy a healthy diet and stick with it for a lifetime!
In addition, you may be surprised to learn that milk is the top food source of potassium in the United States. Americans who enjoy three servings of dairy every day have significantly higher intakes of potassium compared to those who do not. Following the DASH diet is a great way to take charge of your health! Check out our resources on this page to learn more.