Dairy in Schools
Did you know? USDA guidelines require that milk is offered with each school meal.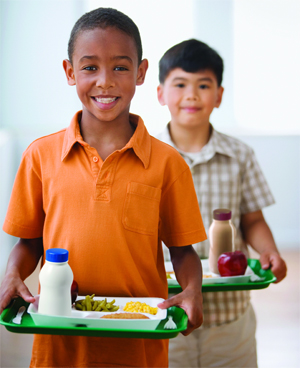 New England Dairy & Food Council and the dairy farmers of New England are dedicated to improving child health. There is no better place to help children learn healthy eating habits than in school! Milk, with its 9 essential nutrients, including protein, calcium and vitamin D, is an important part of school meal programs. Many school breakfast and lunch programs also offer nutrient-rich yogurt and cheese to ensure that students get the nutrition they need. Here are our top tips for ensuring that students eat, drink and enjoy dairy at school!
Offer variety!
Flavored milk and smoothies are great ways to mix up milk options!
Make it look good!
Be sure to offer milk, cheese and yogurt in neat packaging, preferably in a glass-front cooler.
Connect to the farm!
School milk is local – help your students understand where their milk comes from!
Keep it cold!
The best way to enjoy milk is ice-cold! Use our resources to educate your cafeteria staff on how to properly store milk.
*This new handout lists nine tips for increasing milk consumption with school meals.*