Dairy Foods
Dairy Foods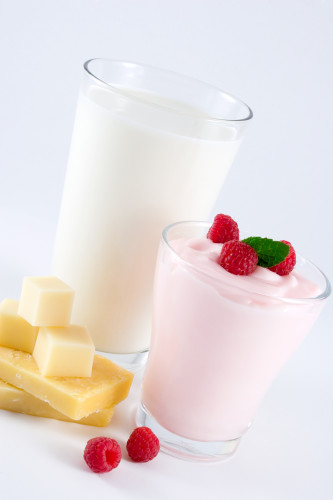 Low-fat and free-free milk, cheese and yogurt deliver a unique combination of nine essential nutrients that are great tasting, affordable and convenient!
Based on the 2015 Dietary Guidelines for Americans, the recommended amounts of dairy in the Healthy U.S.-Style Pattern are based on calorie level which can vary by age and activity level. In general, the recommendations are:
Ages 9 years and older: 3 cups (3– 8 ounce servings)
Ages 4-8 years: 2.5 cups (2.5 – 8 ounces)
Ages 2-3 years: 2 cups (2– 8 ounce servings)
What Counts as a Serving?*
Milk
1 cup (8 fluid ounces)
Yogurt
1 cup yogurt (8 fluid ounces)
Cheese
1 ½ ounces hard cheese (Cheddar, mozzarella, Swiss, Parmesan), 1/3 cup shredded cheese, 2 ounces processed cheese (American), ½ cup ricotta cheese,
2 cups cottage cheese
*According to ChooseMyPlate.gov
Having a hard time eyeballing serving sizes? National Dairy Council now has a dairy foods portion guide that you can download and print for use in the kitchen.