Breakfast
Breakfast Grant Opportunity-Deadline 10/11/19 
New England Dairy & Food Council is excited to announce a funding opportunity from New England Dairy Farmers to eligible schools in CT, MA, NH, RI & VT to support equipment and marketing needs associated with starting or expanding school breakfast in non-traditional ways. Funds must be spent on programs that offer breakfast through a non-traditional service model such as breakfast in the classroom, grab-n-go breakfast, or breakfast after the bell. Funding is limited and will be awarded based on strength of plan, and potential impact. 
Submit your application to dairygrants@newenglanddairy.com by midnight on October 11, 2019. If you need an application for more than four schools please email a request to dairygrants@newenglanddairy.com.  
Success, in the classroom and beyond, starts with school breakfast!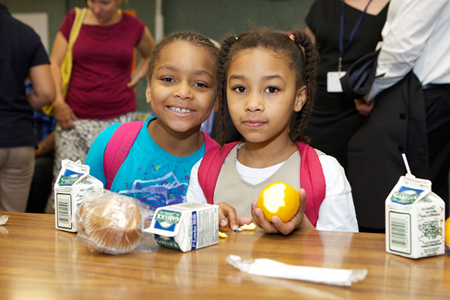 Did you know that students who eat breakfast perform better academically, are more attentive in the classroom and have fewer visits to the nurse's office?  Help your students fuel their day with delicious, nutritious school breakfast!  School breakfast provides dairy, whole grains and fruit to help students start the day fueled, focused and ready to learn.  Whether your school offers a cafeteria-style breakfast, a grab n' go option or breakfast served in the classroom, school breakfast is a convenient, healthy option for your students.
Grab n' Go Breakfast is served on a mobile cart in a convenient location, such as the main lobby, to make it easy for students to grab and go!
Breakfast in the Classroom School breakfast becomes part of the school day when it is delivered to each classroom. Students eat at their desks while working quietly or completing homeroom tasks.
Breakfast After the Bell This service model offers breakfast after the first class of the day. Also called Second Chance Breakfast, it is a convenient way to provide breakfast to students who may not be hungry earlier in the morning.
Watch this video to learn how to fuel your school with breakfast!
School Breakfast Lab Recipes