School Breakfast Benefits
Despite the benefits being well documented, the school breakfast program is still underutilized in many communities.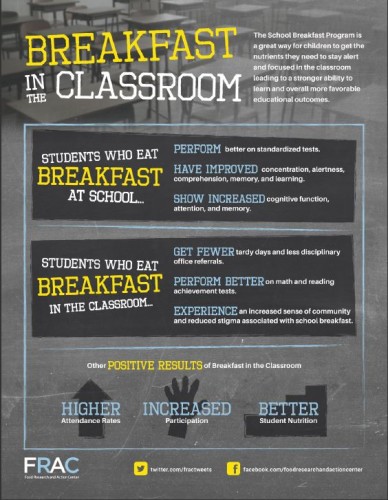 Research shows that school breakfast plays an important role in the health and well-being of our students. Students who eat school breakfast:
Have better attendance
Are tardy less often
Are better able to concentrate
Perform better academically through higher test scores and grades – especially when breakfast is eaten close to testing time
Make fewer visits to the school nurse
Have fewer disciplinary problems
School breakfast provides a convenient option for busy families in the morning.  Instead of scrambling to feed hungry students before school, parents can rest assured that the school nutrition department will offer a balanced, nutrient-rich meal.  Students love the social aspect of eating with their peers as well.
Learn more about the many benefits of school breakfast on our Tools for Schools page and these great partner resources: